In This Issue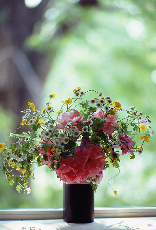 We've found what we think is a great bouquet of resources for you this month. We hope you'll find a few choice blooms among them. :)
In this issue you'll find: a handful of event deadlines; a number of other useful or interesting websites (and don't miss the FIDO puzzle!); two great programs for young people; four wonderfully inspiring videos; and yummy food from a great caterer!
Cheers
Sue & Chris
BJ Seminars International

ruMAD? and T.O.E.

If you work with young people, here are two programs that are both wonderful resources!


ruMAD?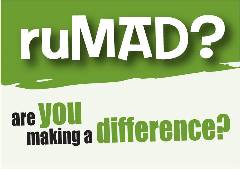 The ruMAD? (Are You Making A Difference?) Program is an initiative of the Education Foundation and enables young people to lead change in their community by becoming active citizens. It is about making a difference. Through ruMAD? students are immersed in a unique program of social change and innovative learning.
In addition to the support for young people, The Education Foundation also runs introductory workshops for teachers and other practitioners who have signed up for the program.
For much more detailed information, visit the ruMAD? website or download a one-page introduction or their brochure.
The Outdoor Experience (T.O.E.)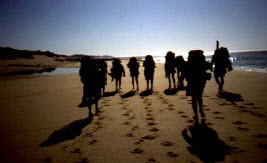 T.O.E. is a bush adventure therapy program for young people aged between 14 and 25. The program runs for six weeks, and each trip is planned carefully to provide a safe and healthy experience for all group members. The program is funded through DHS and the Colonial Foundation, so there is no charge for participants.

For more information and contact details, download the T.O.E. Core Brochure or their latest August newsletter.

Many thanks to Josh Levy (Manager, ruMAD?) and Fiona Cameron (Program Coordinator, T.O.E.) for providing us with this information and their brochures.

Be Inspired ...
We have four very inspirational online movie links for you this month.

Listen to Johnathan Druri's presentation about Why We Don't Understand As Much As We Think We Do on TED. Entertaining and thought provoking!

From Druri's talk, here's a great quote from Thomas Cardinal Wolsey: Be very, very careful what you put into that head, because you will never, ever get it out. And did you know that the word amateur comes from the Latin for love and passion?

Also on TED, hear Sugata Mitra answer the question Can Kids Teach Themselves? with a resounding 'Yes!' His Hole in the Wall experiments have shown that, in the absence of supervision or formal teaching, children can teach themselves and each other, if they're motivated by curiosity and peer interest.

Thirdly, here's a heartwarming story about Christian the Lion. This You Tube video may even bring a tear to your eye! You can also see more about Christian on the Born Fr*e website.

Last but most certainly not least, here's another wonderful You Tube video, this time about an amazing young basketballer. Jason McElwain is a special education student in Rochester, New York. See this video about how Jason, after years of handing out water and towels to other players, brought the whole crowd cheering to their feet. And if the previous story about Christian brought a tear to your eye, this one about Jason most certainly will! :)

Afghan Tasty Foods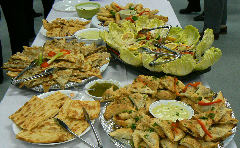 Are you looking for a delicious and different catering option for your next event? And are you based in Melbourne? If so, you may like to call Muheen Bahrami of Afghan Tasty Foods.

We had the privilege of tasting Muheen's wonderful food at a recent gathering we facilitated for the Hampton Park Community Renewal Project.

Not only was the food freshly prepared and delicious (and yes, that's our photo!), but Muheen and his staff also worked very professionally and flexibly with the event organisers and with us.

You can contact Muheen by phone on (03) 9792 4945 or 0410 021 973. And if you'd like to sample the food beforehand, you can dine in at the Afghan Tasty Foods restaurant, 365 Lonsdale Street, Dandenong.

And no, we are not affiliated with Afghan Tasty Foods. :) We simply enjoyed Muheen's food and appreciated his professionalism, so thought we'd share the resource with Starlink readers.

Next Full Issue
October, 2008 Starlink #73
Just for a Laugh
The things that come to those who wait will be the scraggly junk left by those who got there first.
The Last Word
An optimist is the human personification of spring. (Susan J. Bissonette)
Starlink and Starlink Extra
Each full issue of Starlink is published bi-monthly and has a downloadable pdf file. Every other month, subscribers receive Starlink Extra.