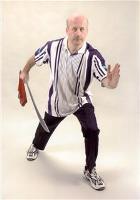 Our blogging journey has also turned another corner recently. :)
Our personal blogs (Sue James and Chris Chats) continue to keep us busy, but Chris has also started a second blog that focuses on his passion for Tai Chi. Do drop by Chris Chi if you are interested to learn more - it's for beginners and 'the simply curious' as well as containing resources for more experienced Tai Chi folk.
We also made the decision to close down our BJ Biz Buzz blog. Instead we now have the "Whats' New" section of our site (also a blog format) explained above, which ties more closely into our core business.
Sue's recent posts include Stopped and Dropped, Thankless Thinking and Hit and Myth - and she's been waxing a little poetic too.
Chris has posted Have Mercy, Manual Labour and Me and Cat Happy. And his latest post should make you smile - have you ever thought you could teach a toddler Shakespeare?
We hope you'll visit, read, enjoy - and perhaps leave us a comment or two. :)