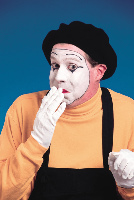 We'd like to apologise for the delay since our last issue of Starlink!
First of all, we missed July altogether. We were juggling several projects, and things became so hectic that time to produce Starlink eluded us.
Then - Murphy's Law at work - the August issue was delayed because we were having intermittent 'blacklist' problems with our host's mail server!
We gathered it was somehow being infected by 'spambots'. So our domain kept getting blacklisted and emails were bouncing back to us. A hassle at the best of times - but not something we wanted to face with the hundreds of emails that go out for each Starlink issue. :)
We'd hoped we might still get an issue out during August - by the skin of our teeth at least. But unfortunately that wasn't to be.
As we delayed distribution until the blacklist problem was fixed, this has finally become the September issue.
Fingers crossed, we'll have no more bouncing problems - and we hope you'll find this month's Starlink was worth waiting for. :)
Cheers
Sue & Chris
BJ Seminars International