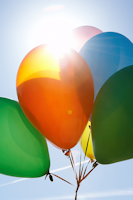 Here are several items, web links or online videos that should brighten your day!
Firstly, listen to this wonderful prize-winning piece written by a 20-year old for the American Association of Retired People (AARP) U@50 video contest. Be sure to listen to it all the way through!
Next, an inspiring TED talk in which the author Elizabeth Gilbert reflects on what it means to be creative; an artist or a 'genius'. She proposes that instead of 'being' a genius, all of us can 'have' a genius. Her talk is thought-provoking, warm, engaging - and at times even moving.
The story of Patrick Henry Hughes is another very inspiring and moving one! Don't miss this video of his story, or this one in which he plays the piano and sings. It might even bring a tear to your eye!
And finally ... purely for fun, here are two items we might call "pop-CORN". :-)
First, a very brief rendition of Obama's Elf. Second, another oldie but goodie; Wayne and Schuster's Rinse the Blood Off My Toga. You'll need to click on the video link on that page. (For the curious, here's a full written transcript of the original radio play.)