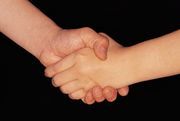 The Foundation for Young Australians is seeking applications from youth-led organisations for Partnership Grants 2008.
Partnership Grants is a two-stage funding opportunity supporting young peoples' participation in decision-making, that results in meaningful change for young people aged 12-25.
Through Partnership Grants, The Foundation seeks to provide an opportunity for groups and organisations to develop their own criteria in response to the needs of young people and their communities.
The partnership approach is based on developing youth-led initiatives together, using the shared resources and expertise of young people, the partner organisation and The Foundation.
For more information and to download application forms and guidelines, visit the Foundation For Young Australians web site or telephone the Foundation on 1800 252 316.
Applications Close 1 April 2008.