Teen Voices is a (US-based) print and online magazine "about teen women being themselves".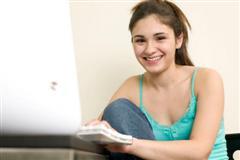 "There are enough magazines out there that tell you how to look, how to act to impress a guy, or to buy certain products.
Teen Voices challenges the mainstream media's harmful images of girls and women by providing an intelligent alternative".
International submissions are very welcome, so if you know any young women in your family, class or youth group who love to write, please share the following information with them.
Are you a teen girl between the ages of 13-19 who loves to write? Teen Voices wants to publish your writing in our biannual print magazine or monthly online magazine.
We accept poetry, short stories, personal essays, opinion pieces, and reviews of books and CDs. We have sections in the magazine about health, surviving sexual assault, media watch, teen motherhood, and much more.
Visit TeenVoices.com online and you can submit your work right on our website. Or email it directly to us.
Our thanks for this information to:
Ellyn Ruthstrom
Editor-in-Chief, Teen Voices
80 Summer Street, Suite 300, Boston, MA, 02110, USA